Visits
Brethren of the Lodge of St Michael are encouraged to accompany the Worshipful Master on visits: If you wish to stay and partake of refreshment at the Festive Board, please inform the WM in good time so he can book you in ~ or contact the individual Lodges directly. Below are listed visits made by the Worshipful Master, and other members of the Lodge, during his year in office.
Please inform the Webmaster if you wish to include any of your Craft Lodge visits on this page.
May 23rd 2019 Installation meetting. The installation of a new Master is the highlight of that Masons Journey and a year you will never forget for the rest of your life. On this date Bro Shaun Rennison became Worshipful Brother Shaun Rennison when he became Worshipful Master of The Lodge of St Michael 7833. He was placed cerimoiously in the chair of King Soloman by the out going Worshipful Master WB Terrance Black with all the Pomp and Circumstance we bestow on our new master. The Festive Board was an excellent night of food, drink and masonic firing with visitors from 7 Sister Lodges attending. The new Raffle box was introduced but the prize was not won giving a rollover to the next draw.Visitors from Brough Lodge claimed the Traveling Gavel during the evening.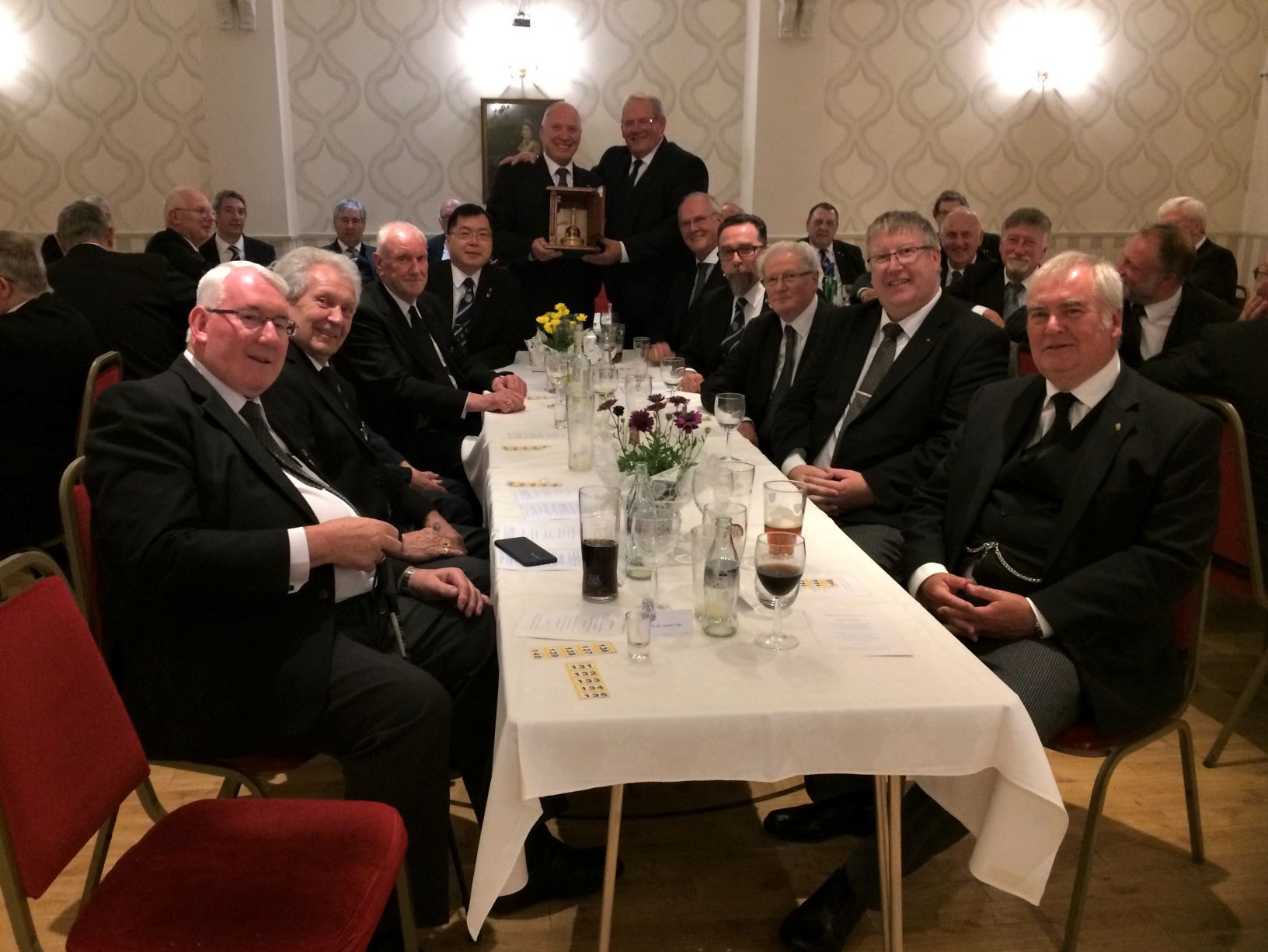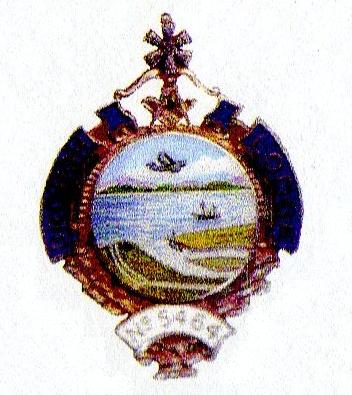 Brough Traveling Gavel Team.
The Worshipful Master with Brothers Adrian Thompson and Peter Stokes attended the Installation of Worshipful Brother Tony Schofield into the Chair of King Soloman at Brough Lodge 5464. A good display of Humber Ritual was followed by an enjoyable Festive Board where WB Shaun responded to the Visitors Toast. The Traveling Gavel was on display!
A Grand Day Out.
Worshipful Brothers Peter Wright and Terry Black accompanied by Bro's Adrian Thompson and Peter Stokes attended a meeting at Grand Lodge, Great Queen Street, London.
The Pro Grand Master Peter Geoffrey Lowndes took the chair with guest Grand Masters from New Zealand, South America and Africa as well as some closer to home.
They were treated to an occasion of pomp and ceremony, the grand organ was in good voice. After dining, a return trip to Hull was the order of the day.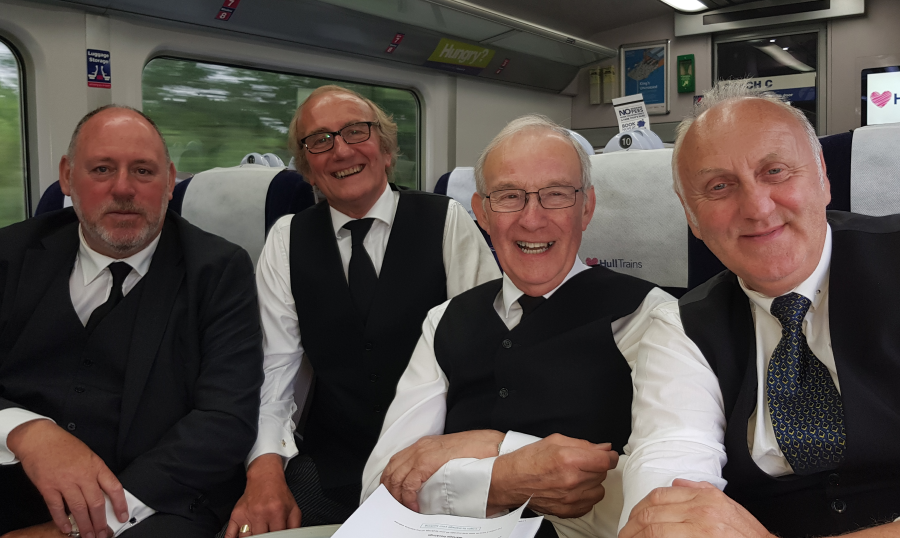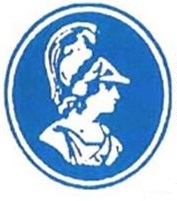 On Saturday 22nd June, Brother Peter Stokes Attended the Instalation of WB Mark Hartley at Minerva Lodge 250. The visiting Representative of the Provincial Grand Master was WB Paul Harper, The ceromony was carried out in due form and a Festive Board was enjoyed by hosts and visitors alike.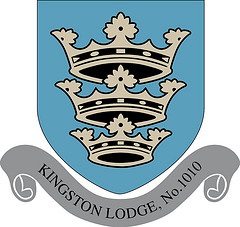 Wednesday 3rd July saw Brothers Peter Stokes and Adrian Thompson at Kingston Lodge 1010;the program for the evening included an Illistrated Daggards Presentation on "Graves and Epitaphs" Presented by WB John Wheeldon. An excellent presentation was followed by an equally excellent Festive Board where brother Peter returned the visitors toast.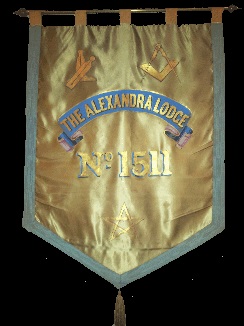 Alexander Lodge 1511,Hornsea was the destination for WB Steve Longthorpe with Brothers Adrian Thompson and Peter Stokes on Wednesday 17th July.where they attended a Second Degree ceremony to Pass Brother Des Danial, a sprightly 92 year old entered apprentice.
The meeting was attended by RW Brother David Burnett representing the Provncial Grand Master for the evening his Director of Ceremonies was WB David Hume.
An entertaining ceromony; followed by a friendly Festive Board; meeting new friends and enjoying good company made for a good evening had by all.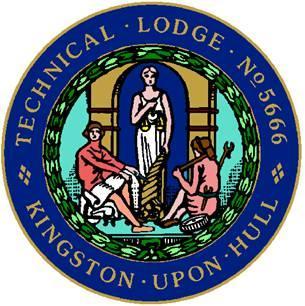 The Worshipful Master along with his Junior Warden, visited Technical Lodge 5666 on Saturday 17th August. The occasion was a First Degree. The candidate arrived properly prepared and was duly initiated into the mysteries of freemasonary.
We retired to the Festive Board where we enjoyed good food good company and singing, new frendships were formed and a very enjoyable evening was had by all.
On Wednesday 4th September, the Worshipful Master accompanied by Worshipful Brother Allan Hemmings and Brother Adrian Thompson visited Wilberforce Lodge for the investature of three new Provincial Officers, Worshipful Brother William Glanville as Provincial Grand Secretary, Worshipful Brother Trevor Ions as Assistant Provincial Grand Secretary and Worshipful Brother Stephen Fox as Assistant Provincial Grand Director of Ceremonies. A presentation by Wiberforce "Light Blues" folled entitled "Hidden in Plain Sight". 93 sat for the Festive Board and frendships new and old were made.
Thursday5th September saw the Junior Warden visit Comstitutional Lodge No 294 in Beverley. On this occasion the lodge was visited by a Representative of the Provincial Grand Master Worshipful Brother Tony Burke PGStB. The lodge also performed a third degree for Brother Ian Vincent Denston who was raised to the sublime degree of Master Mason.A simple Festive board followed and Brother Peter Stokes returned the Visitors Toast, an evening of good ritual, re made freindships and fraternal fun was had by all.
. On Date to be noted, The Worshipful Master Supported the Right Worshipful Provincial Grandmaster when he attended the Worshipful Masters Dinner held at the Feathers Hotel, Helmsley, North Yorkshire. The event was a success attended by 50 Worshipful Masters from the Province.

Gone For a Burton.
Monday 20th September,Andrew Marvel Lodge (1937)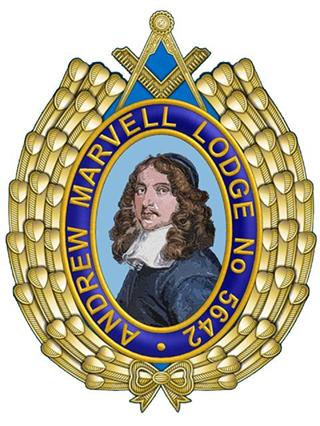 were treated to a sterling rendiition of the first degree Tracing Board by BrotherJohn Burton who gave the extended version to the assembled Brethren; who responded with spontaineous applause. Worshipful Brother Eddie Wildman (also present from the Lodge of St Michael) while he had heard Brother Burton's delivery before, on this occasion it was delivered with extraordinary sensitivity.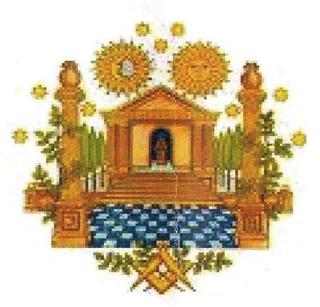 3rd of October 2019 the Worshipful Master along with Worshipful Brothers Terry Black, Peter Barnes, Jack Chapman and Brother Peter Stokes visited the Consttutional Lodge No 294 to witness a Second Degree Ceremony. Also present was Worshipful Brother Eddie Wildman. Unbeknown to them it was also Past Masters Night at the lodge and Worshipful Master Andy Nicholson handed over his Gavel to Worshipful BrotherJohn Rutty (WM 2002). Brother Lee David Chester was prepared and then Passed to the degree of Fellow Craft Freemason. Chicken Curry was served at the Festive Board where Shaun poetically returned the Visitors Toast. A good evening was had by all.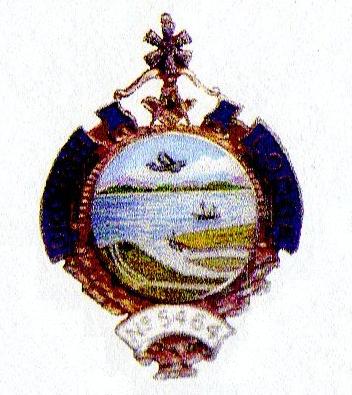 1st November, Brough Lodge 5464 held a second degree ceremony for Brother Dale Adamson, Brother Peter Stokes was there to witness this. Also present was Brother John Watkins who is a menber of this lodge. Brough Lodge were pleased to recieve a Representative of Provincial Grand Lodge, WB David Flower PAGDC, who presented a Grand Lodge Certificate to Brother Ashley Laverick. We retired to the dining area for a convivial Festive Board where frendships were renewed and new ones made.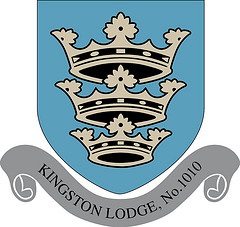 Remember, remember the 6th of November, when the Lodge of St Michael went visiting. The Worshipful Master Shaun Rennison with W Bro's Terry Black, Stephen Prior, and David Whittall along with Bro's Adrian Thompson and Peter Stokes called on Kingston Lodge 1010 to witness a Raising.Before the ceremony the Worshipful Master of Kingston Lodge W Bro Louis Morgan PPJGW, gave a moving Eulogy for W Bro Samson Sassoon Samuel Judah PDGO. There then followed a Kingston 1010 tradition that a service of remembrance was held for lives lost in both world wars and in particular Masons lost from Kingston Lodge. The main event was the raising of Bro John Roger Watkinson to the sublime degree of Master Mason. After the lodge was closed we retired to the Festive Board, a places were laid for the fallen, continuing the theme of remembrance. Our Worshipful Master returned the visitor toast and we were serenaded with song by W Bro Michael Price PPSGD before we made our way home, happy we part happy to meet again!